12 Practical Tips to Learn Boating Fast (2023)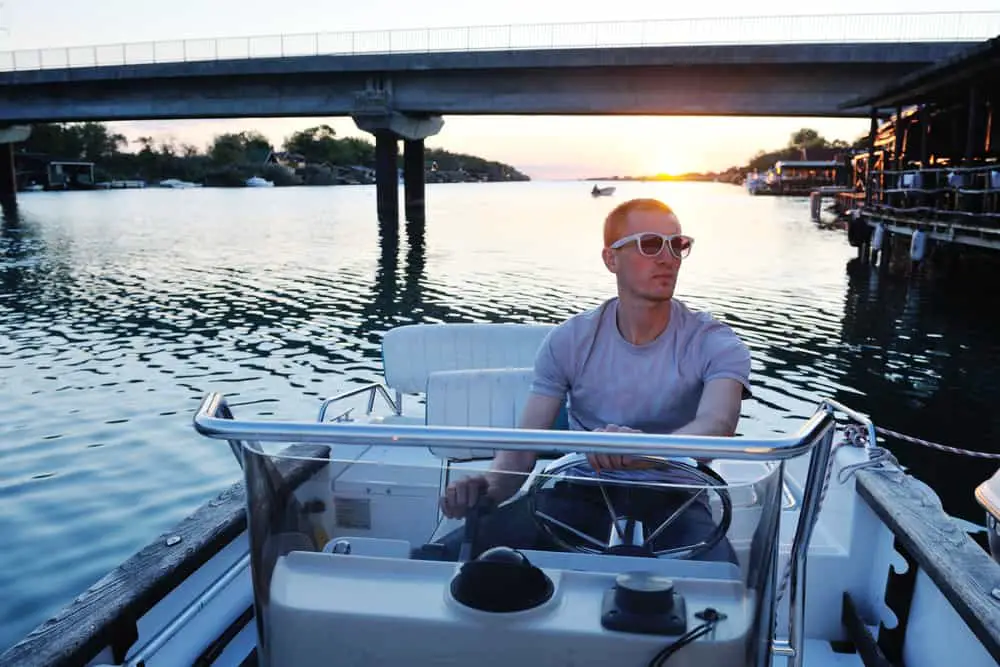 For someone who wants to learn boating, it can be a bit intimidating looking from the outside in. You might be wondering where to start and what to learn first, and that's totally natural. I've put together this guide to take some of the stress and confusion out of your nautical debut.
1. Understand Your State Laws
The first thing to do, before you learn to operate a boat, is to know all of the state and local laws.  Does your state require you to be certified or licensed to operate a boat? If your state requires a boating license or certificate, what is involved in getting one, and how long is it good for? These are all things to consider before going any further.
Some states will have a cutoff date, with boaters born after the cutoff date being required to hold a boating certificate of basic boat knowledge.
There are some states and areas, however, where certificates or licenses are mandatory regardless of age such as Alabama, Washington D.C. waterways, with California also phasing in their mandatory program between 2021 and 2025.
Even if you aren't required to, learning about boats with a safety course that gets you certification as well as potential discounts when buying your new vessel.
2. Take an Essential Online Course
Taking an ABC boating course, also known as America's Boating Course, is one of the best things that an aspiring boater can do to ensure they have the knowledge to safely operate their vessel on any waterway. Administered by the US Power Squadrons, the course is an intense six-part study with quizzes after each part, culminating with a test.
An American Boating Course will cover the entirety of a nearly 300-page manual that goes over 236 separate topics related to every aspect of boating. These include starting out, navigation rules, government rules and regulations, finding your way, maritime communications and safety, trailering, and personal watercraft operation.
If you are serious about getting into boating, do not skip on the boating ABC course. It gives you valuable knowledge you will need on and off the water, though it will take some commitment. While juggling my job and my family, it took me about 6 weeks to finish all of the modules and complete the course.
3. Take an Essential Boating Safety Course
The next step is to learn to operate a boat safely, so you should enroll in a separate safety course that is specific to your state. The alternative to this is to find a safety course that is NASBLA approved so that your certification will be valid in all participating states.
One of the ways you can learn how to drive a boat safely is to enroll in the US Coast Guard safety course. However, there are some locations where that may not be convenient, in which case the NASBLA website can help you take a boating course that fits their criteria.
Being certified in boater safety has benefits beyond just lower insurance premiums. It provides you with critical knowledge of boating safety both on the water and off. It may seem redundant since the ABC courses cover safety relatively thoroughly, but you will feel much better after completing it. I sure did.
4. Take an Essential On-The-Water Course
When you are looking to start with some basic boating lessons, there are many options that you can go with to get your sea legs.
There is simply no substitute for the experience that time on the water will bring you. Navigation markers are easy to read at your desk, but it's a whole different story when you and several other vessels are moving simultaneously and the midday sun is glaring off the water.
There are several courses out there that will fit the bill, depending on what your needs dictate. US Powerboating offers an intensive 16-hour class that is for new boaters as well as experienced boaters looking to hone their skills even further.
BoatUS offers a great on-the-water course that is free and is often held at regional boat shows on either coast or in the Gulf area.
They will not only cover boating basics like pre-trip preparations, shifting gears, throttle control, holding stationary, and docking, but they do it all in an easily manageable 3-hour class. That was what sold me on BoatUS. I'm impatient, and 3 hours for zero dollars was perfect for me.
5. Get a Copy of the Boating Bible
If you can, get a couple of copies of Chapman Piloting & Seamanship, AKA the boating bible. It is exactly what it sounds like, the go-to resource for just about anything related to the boating lifestyle. It covers navigation, various types of vessels, docking, safety procedures. It is constantly updated every year.
When I was a first-time boater, I was only comfortable in small fishing boats, deep V hulls, shorter than 18', simply because I didn't know enough about larger vessels to be comfortable in the space, that's much different now.
The reason you will want two copies is simple, one for the boat, one for your land home. When you're out on your boat enjoying the lifestyle, you'll have the perfect companion reading piece. Conversely, when you can't get out on the water, it's the perfect book to tide you over. It is one of the best boating books for beginners, and an essential to keep close.
6. Join a Local Boating Club
Even if you aren't the most social of people, joining a local boating club can be one of the best ways to get your feet wet before actually committing to one particular boat or style of boat. You don't have to stay a member for life, but joining for a season or so will allow you to meet people with a variety of vessels that you can potentially try.
By befriending a few other club members, you can likely find someone who has a little more time on the water than yourself. These veteran boaters can help show you the ropes on different size vessels and may be able to help you make some choices before you become a new boat owner.
You may already know of a boating club or two near you, however, in some inland areas or more rural areas, they may be less prevalent. Check out the ABC boating club locator to potentially find a club in your area.
7. Rent a Boat
By far, the quickest and cheapest way to learn how to boat is to just rent a boat and get out there. Many marinas offer boat rentals for reasonable pricing, often set by the half-day or the full day, usually 4 hours or 8. This is a great way to get some basic experience, provided you already have sufficient safety and navigation training.
If you know someone with a boat, however, you may be able to get on the water for even cheaper than a boat rental and fuel. Most boaters are eager to jump at any opportunity to get on the water, and if you offer to pick up lunch, pay for fuel, or simply let them know you were looking for some boating instruction, you can likely get some private tutelage.
8. Buy a Boat
First, you will need to determine your budget since that will more or less dictate the rest of your process. Make sure you also factor in the cost of boat ownership, such as licensing, insurance, storage or marina fees, fuel, and more.
The next step in buying a boat will usually be to attend a boat show or expo, since not only will you be able to see a massive number of options, but vendors often have special discounts for buying at shows like that.
The last thing to remember is to buy the boat that is right for you now, not the boat you may be ready to handle safely in 2 years. Your choice should match your experience level.
9. Get the Right Marine Insurance
Being insured is one of the most important steps and one that many people tend to overlook.
In some cases your homeowner's insurance policy may have coverage for your vessel, so be sure to check. If it does, check to see what is covered and the policy limits, and compare the results to dedicated boat insurance would be a better fit.
While you might think that boat insurance would be relatively expensive considering the price on some of the vessels out there, but in many cases, major insurers can have your boat covered for less than $50 per month.
10. Have the Right Boating Gear
Once you have your boat picked out and you're learning to boat, you are going to need to outfit her. Necessary stuff, your "Captain's Quarters" placard and nautical-themed seat covers can wait for now. You need some essential boating gear that will keep you safe. Here's a quick list:
Compass, analog, and electronic
Chart plotter and backup GPS unit
Depth sounder or sonar
Marine radio
Fire extinguishers, local laws will dictate the number
Life vests, often one required onboard for each passenger the vessel is capable of transporting
Distress flares
This is just a basic boating gear list, you can certainly expand on it. If you are a tech junkie or gadget lover, the boating lifestyle will suit you nicely. With all the innovative gear constantly coming out, your holiday shopping list will never be empty.
11. Start Learning and Watching the Weather
One of the many crucial boating skills is paying close attention to the weather since the weather can change drastically in only a few minutes. Your safety is in jeopardy if you hit the water without checking your NOAA current conditions and forecast first.
This will be something that you will need to spend time learning for your particular area since weather patterns are extremely location-dependent. A gentle breeze could be expected to turn into gales and whitecaps, and if you aren't aware of it, it can mean your life.
12. Learn About Boat Maintenance
The adage is that "boat" stands for "bust out another thousand", so be ready for your purchase price to be just the beginning. You will need oil changes and motor tune-ups, but you will also have other repairs.
Just like a car, you will have unanticipated issues, a fuel pump here, a trim or tilt control there. If you're reckless with watching your depth, maybe a busted prop. Many things you'll be able to do yourself, but some will need professional attention.
Learning the basic boat maintenance task quickly is essential if you want to keep your costs in a reasonable rate and enjoy the waters.
FAQ
How do I get started on boating?
The first step in learning about boating is to learn your local laws, you can't do much else until you know what's legal and what isn't.
Is it hard to learn to drive a boat?
Learning boating for beginners is rather simple, but there is a big difference between knowing the basics, and being a proficient operator.
Is boating easy to learn?
Boating is relatively easy to learn to drive a boat, but it's nothing to take lightly. When you are on the water without sufficient knowledge, it is a dangerous situation.
How long does it take to learn to drive a boat?
You can learn boating basics before you leave the no-wake zone, in most cases. The larger the boat, the more complicated, generally.
Can you rent a boat if you have never driven one?
In most cases, if you are over 30, yes. When you rent at small marinas or bait shops, they usually will only require that you be of age. They may ask if you have had boating lessons.
What is a good boat for a beginner?
When learning boating, try to stick to something easy to handle, that can take a little abuse, and be easy to maintain. Aluminum V hulls are sturdy and can cut through most wakes easily. Pontoons for lakes are also good.
How much is boat insurance a month?
When I added my first boat to my Allstate policy, it came out to about $20 a month when I paid for the year ahead. Don't forget to mention your safety certifications and any other boating training you've taken, they could be good for some serious discounts.