Cabin Cruiser: The Ultimate Guide (2023)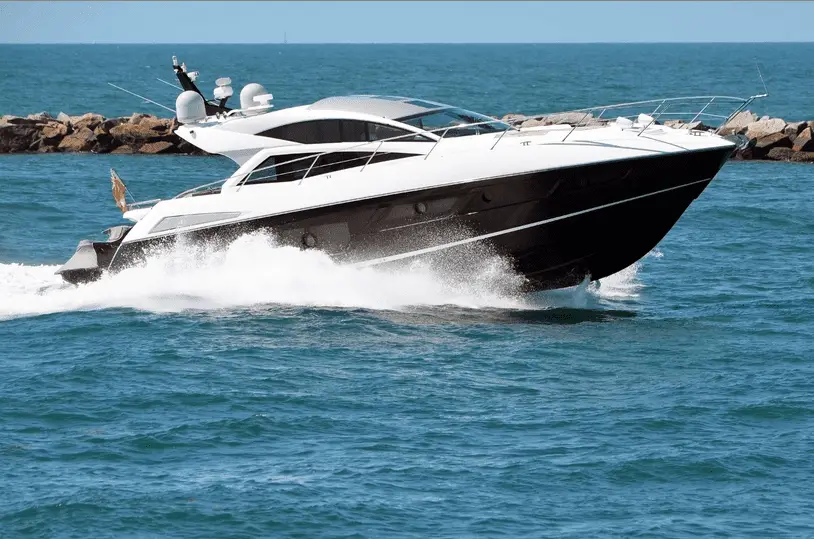 Passengers: Maximum 10
Length: 20-40 Feet
Trailerable: Yes
Best for: Day Cruising & Overnight Trips
Price Range: $100,000-$500,000
Propulsion: 2+ Outboard Engines
Many boaters want the versatility and passenger capacity of a pontoon boat, the amenities of a houseboat or yacht, with the ability to take on bigger waters or coastal environments. If you find yourself wanting a very versatile and comfortable vessel, a cabin cruiser might just be perfect for you. 
What is a Cabin Cruiser?
A cabin cruiser is a boat that can take the whole family fishing or tubing, while also providing many of the comforts found in larger vessels, like areas to sleep and cook.
The average cabin cruiser boat will be between 20 and 40 feet long and have the capacity and amenities to support outings that are longer than just a day. Even the smallest and most basic cabin cruisers will have room for several passengers, one or more staterooms, a head, and at least a small galley area.
Cabin cruisers are great for boaters that are going to be using their boats for a wide variety of activities, including those that may have them on the water for several days at a time. 
They can be used for fishing just as easily as they can be used to pull the kids on their tubes or skis. After a long day of fun cruising, you don't have to cut the day short, head inside to make a quick dinner, and enjoy it in the comfort of the private bedroom.
Cabin Cruiser vs. Cuddy Cabin vs. Yacht
While there are a lot of similarities between cabin cruisers and yachts, the differences that separate cruisers and yachts from cuddy cabins are quite stark.
Cabin cruisers are far easier to transport than yachts since all except the largest and most extravagant luxury cabin cruisers are trailerable. Cabin cruisers are also much easier to operate by a single person.
Most yachts will not be able to be transported by the average owner, and many of them will require a professional crew to safely operate. They are incredibly luxurious and are generally much longer than either cabin cruisers or cuddy cabins.
Cuddy cabins, on the other hand, have highly stripped-down cabins compared to yachts and cruisers. While cuddys do have a cabin, it is small and minimalist, and will not include a head or galley. The most you can expect in a cuddy cabin is a place for two adults to sleep, and perhaps a freshwater sink. Of the three types, they will be the cheapest in nearly every scenario.
Types of Cabin Cruisers
While cabin boats might feel like a very simple designation for any boat with a cabin, there are actually several different types of cabin cruisers that you may encounter if you are currently in the market. Generally separated by their design and purpose, three popular cabin cruiser variations are below.
Sport Fishing Cabin Cruisers
These are usually the cabin cruiser boats that people picture in their heads. They are generally a very deep v hulled boat, with ample deck space and a cabin that houses many of the features and amenities of the boats. They are usually outfitted with between 2 and 4 powerful engines.
They differ from other boats with cabins by being equipped with features and gear that are central to fishing, like rod mounts, livewells, and bait freezers. If you fish for larger sport fish in coastal waters, like tuna or swordfish, a sport fishing cabin cruiser will likely be the best type for you.
Downeast Cabin Cruisers
Downeast cabin cruisers are a type of boat with sleeping quarters that evolved from the lobster fishing vessels of the New England coastal waters. They are more heavily outfitted for fishing than even sport fishing cabin cruisers, and may also have specialized equipment like trap hauling cranes or extra heavy downrigging equipment.
Downeast cabin cruisers will combine the comforts of home, with the ability to remain at sea for several days or even continuously. They can be great sleeper boats for day trips, weekend outings, overnights, and long-term leisure cruising. 
Canal Cabin Cruisers
These unique vessels are not often seen in the US but are a staple of UK canals and riverways. They are small cabin cruiser boats that are similar to the downeast cabin cruiser shape, but having a flatter hull to allow for navigation in much calmer and shallower water.
A benefit to these types of cabin boats is that they are more suited to long-term cruising, very similar in nature to a houseboat. Although, since they are designed for river and canal navigation they aren't suited to rougher water. They are quite rare in the US, even in the used boat market.
Cabin Cruiser Sizes
When you're browsing boats and trying to figure out what cabin cruiser length may be right for you, you are probably looking at a range of more than 30 feet. The smallest ones you will see are going to be just under 20 feet, while the longest will be 55 feet. They can be Class 1, 2, or 3 vessels.
The size and weight of your boat are going to determine whether or not you have a trailerable cabin cruiser, or if you may have to seek professional help when transporting your boat out of water. Generally speaking, if the boat is 8 feet 6 inches wide or less, and under 12 feet high, it will be legal to tow through most states yourself.
Length
Cabin cruisers have one of the largest size ranges for personal leisure powerboats that can be operated by one person. Most cabin cruiser brands will produce boat lines that are between 17 feet long and 55 feet long, though the great majority of cabin cruisers will occupy the modest range of 20 to 40 feet in length. 
Cabin cruisers are most often used in coastal waterways for leisure cruising, fishing, and family entertainment. Some are small enough to be transported and used effectively on smaller rivers and lakes, however, the expense of transporting longer boats may be prohibitive.
If the boat is between 16 feet and less than 26 feet it is a Class 1 vessel. If it measures 26 feet to less than 40 feet it qualifies as a Class 2. Class 3 cabin cruisers will measure more than 40 feet but less than 65 feet. The class will dictate the equipment and safety gear that must be present onboard.
Weight
The weight of your cabin cruiser will vary depending on size, though not as much as you may think. The average 25-foot long cabin cruiser will tip the scales at about 5,500 pounds, with an average of another 200 pounds for each linear foot beyond that. 
The weight will be very important for you to understand since it will directly affect your ability to trailer, tow, transport, and ultimately launch your boat. In many situations, the vehicle is able to tow the boat and trailer, but the weight of both at once may end up exceeding weight limitations for local roads or bridges. 
With the average dry weight of the boat being above 5,000 pounds and sometimes 8,000 or more, the dry weight of your boat and trailer should be within the towing capacity of your vehicle. In situations like this, you will certainly need a truck, as tow-capable cars or SUVs will not be able to safely tow.
Benefits of Cabin Cruisers
There are a ton of cabin cruiser benefits that can be pointed out by those who prefer them. To start, they often eliminate the need for shore power when out at sea, since many of the larger cabin cruisers will have dedicated generators that will run accessories like fridge/freezer, lights, entertainment devices, and more. 
The size of cabin cruisers is also considered to be one of their benefits since they have plenty of room for activities. Most have a swim platform, fully enclosed or optionally enclosed helm, and a comfort level in rougher waters that is the envy of smaller vessels. 
So many people prefer cabin cruisers over dedicated-purpose boats because of the options and customizability available through the manufacturer, and the overall versatility. Since you don't have to get a specific subtype, you can often choose a model that will allow you to fish, cruise, and even go island-hopping.
Drawbacks of Cabin Cruisers
One of the things that some people often have to shop around for, is finding a cabin cruiser with the ideal number of seats for the passenger loads they plan on carrying.
Even though you may find one that has the passenger capacity you need, there may not be enough space for passengers to sit without having to go below deck.
If you find yourself in this situation, simply moving up to the next length option often provides an additional 2-4 seats. Sometimes, even this isn't enough extra room, in which case you may be better suited to looking at smaller yachts.
Cabin Cruiser Prices
Navigating cabin cruiser prices can feel a bit overwhelming at times since there are so many potential makes and models. We've simplified it a bit for you, below you'll find ballpark estimates for what you should expect to spend.
| | | | | |
| --- | --- | --- | --- | --- |
| Price Level | Length | Used Price Range | New Price Range | Popular Model |
| Entry | 20 feet | $20,000 | $40,000 | Pro-Line 20 |
| Entry | 22 feet | $55,000 | $70,000 | Sea Hunt 229 |
| Entry | 25 feet | $50,000 | $100,000 | Glastron GS 259 |
| Premium | 30 feet | $70,000 | $150,000 | EXPLR 9 |
| Premium | 33 feet | $180,000 | $290,000 | Regal 33 Express |
| Premium | 40 feet | $700,000 | $900,000 | Aviara a40 |
New Cabin Cruiser Prices
Some newer boaters may be put off by the cabin cruiser cost associated with a new vessel. In most cases, boaters looking for an average cabin cruiser can get on the water for about $70,000. Most new boats will be in the $50,000-$100,000 range, with luxury models going up from there.
With new cabin cruiser models, all of your mechanical components, like the engine, bilge pump, steering system, electrical system, and so on, are in the best condition they will ever be in. Often there are warranties as well. This drives your ongoing cost of ownership down for several seasons since there likely won't be any service needed beyond routine maintenance. 
In many cases, the prospective owner will be able to build their boat online to suit their needs, cutting down on the list of gear or accessories needed later. Often with new boats, the manufacturer or dealer will have packages available to outfit the boat with all items required for full passenger load.
Used Cabin Cruiser Prices
Many potential cabin cruiser buyers look for used boats. This can sometimes be a very smart way to get boats which are frequently relatively expensive for much less than they would ordinarily pay, less than half in many situations.
Used cabin cruisers can be found for as little as $7,000 for models only a few years old, ranging up to around $30,000. This makes them a much better value than other used boats. A downside to this is that you will often need to spend a little more to have them outfitted with the electronics and other accessories that you want. 
With the benefits of lower purchase costs, however, cabin cruiser ownership costs often rise with the purchase of a used boat. Depending on the condition of the boat and the maintenance history of the previous owner or owners, you may be getting a great deal or taking on a considerable expense.
Cabin Cruiser Ownership Costs
When planning on buying a cabin cruiser, you should understand and be prepared for the ongoing expense of boat ownership. In some ways, the ownership costs for a boat with a sleeping cabin can significantly outstrip those of boats without cabins. Plan on 10%-15% of the cost of your vessel in annual maintenance.
You will need to take into account recurring expenses such as boat insurance, which you will need to maintain whether you're on the water or not. You will also need to plan on mechanical maintenance for the engine, steering system, and the cost of supplies to clean your boat after use. 
If you are in an area where you will have your boat in storage for a part of the year, you will need to consider that cost. If you are in an area that allows for year-long boating, your expense will be monthly or annual boat slip and marina security fees. Here's an average yearly breakdown for a modest $40,000 cabin cruiser with a 6 month boating season:
Licenses & Insurance: $400
Boater Education: $100
Maintenance: $4,000
Fuel: $6,000
Slip: $1,500
Equipment: $500-$1000
Great Activities for Cabin Cruisers
Your cabin cruiser will be the perfect vacation destination since it essentially functions as a seaworthy hotel room. Many people love to just cruise from place to place, enjoying coastal tranquility. Others use them for sport fishing, chasing freshwater trophies, or saltwater bounty like tuna. They work perfectly for local day trips as well as distant overnights.
A large portion of cabin cruiser owners enjoys having a place where they can take the whole family to both stay and play. Since the best part about a cabin cruiser is having the means and space to prepare meals and safely sleep, your outings are no longer limited by daylight hours or your next hot meal.
The versatility to go wherever and do whatever the tribe wants, without having to cut the fun short to have dinner or spend the night, is one of the greatest feelings of all.
Popular Cabin Cruiser Brands 
There are a ton of manufacturers out there that make some version of a boat with a cabin, and many of them only have a limited history of making or selling cabin cruisers.
There are some brands, however, that have been around and are well-known and well-respected in the boating world. There are some newer brands that have definitely made a name for themselves in a short time in the industry.
The most popular brands of cabin cruisers include:
Chris-Craft
Four Winns
Grand Banks
Regal
Rinker
Tiara Sport
Juneau
Azimut
Intrepid
Monterey
History of Cabin Cruisers
While the idea of a boat with a cabin is obviously not a new one, many boaters wonder how the modern cabin cruiser boat type came about. They gained a lot of steam during the 1950s, but their official design and production history goes back even further.
As early as the 1920s and into the 1930s, boatbuilders Elco Motor Yachts and Consolidated more or less created the entire cabin cruiser boat type. While sailboats would remain the more popular cabin boats until the middle of the century when new materials developed during WWII made their way into the consumer boat industry.
Once the boats became more cost-effective to manufacture, it drove the prices down. This allowed those who weren't specifically "wealthy" to begin to enjoy a boating lifestyle. This continued to evolve into the consumer boating industry you know today. 
Cabin Cruiser Alternatives
If you were looking for alternatives to a cabin cruiser, while retaining some similar level of versatility or functionality, there may be a few potential options. 
If you find you don't necessarily need the cabin cruiser interior, but enjoy its various range of uses, you may find that a deck boat allows you to do many of the same things. You will be able to cruise, fish, and partake in various water sports and leisure activities.
Another alternative would be a smaller yacht, which would offer similar amenities while providing even more room for guests or activities.
Yachts will often be slightly longer than cabin cruisers, however, so be aware that your annual cost of ownership would increase as you would likely need a more expensive slip than for a cabin cruiser. 
FAQ
What is the difference between a cabin cruiser and a yacht?
The main difference in a cabin cruiser is that while a cabin cruiser often has similar amenities, its size allows it to be more easily operated by one person, while a yacht will generally require a crew.
Can a cabin cruiser go to sea?
Cabin cruisers are surprisingly capable out at sea and are able to handle some rougher water due to their size, hull shape, and overall stability. 
How much does a cabin cruiser cost?
Like all larger cabin boats, the cost of a cabin cruiser can vary wildly. Basic models bought new, will generally cost at least $100,000 and sometimes more than a million.
Do cabin cruisers have bathrooms?
Any cabin cruiser should also be equipped with a bathroom, also called a "head". They may not be "en suite", but they should be present.
How fast do cabin cruisers go?
Depending on the engine and the boat specifics, it is not uncommon to see cabin cruisers that are able to reach 60 knots (69mph) or more.
How to winterize a cabin cruiser?
They require much of the same care that other boats will need, such as prepping the engine for disuse, service the filters and separators, stabilizing the fuel system, and prep the plumbing.