Boat Steering Systems: Everything You Need to Know (2023)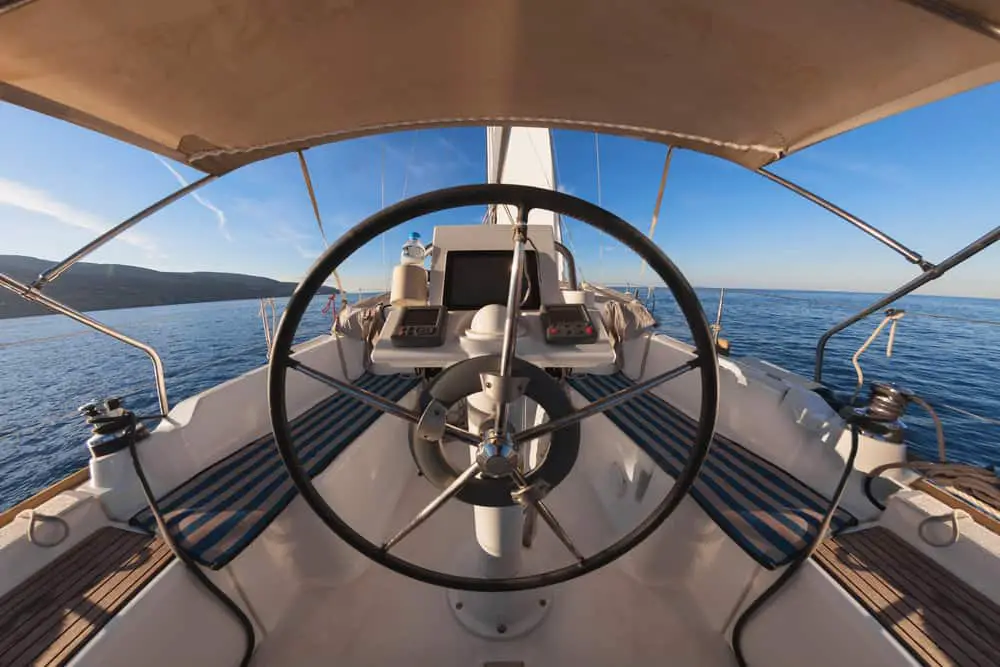 One of the most important tasks in your yearly boat maintenance routine will be the inspection and potential repair of your boat steering system. Whether it is mechanical, hydraulic, or electronic, it is what keeps your vessel able to safely navigate, so it has to be in perfect shape.
Boat Steering
The boat steering system is what is going to connect the steering wheel to the motor (or motors) so that the boat can be safely and reliably piloted. There are several different types of steering systems, mechanical, electronic, and hydraulic, and each one has its benefits and drawbacks, as well as ideal use cases. 
The boat steering systems are often overlooked as one of the most important systems on a vessel. Not only is it a crucial system for the basic safe operation of the boat, but it is used constantly. 
While some other features of a vessel may only be used on rare occasions, the steering system and components are in use anytime the vessel is underway. They are also subjected to incredible forces during use, so the components need to be in top shape all the time.
Types of Boat Steering Systems
| | | | |
| --- | --- | --- | --- |
| | Mechanical System | Hydraulic System | Electronic System |
| Boat size | Boats less than 10m and 100 hp or less | Larger boats up to 350 horsepower | Large vessels with more than one control station |
| Good | Reliable | Very easy turning | Versatile |
| Bad | Torque feedback | Several components that can need replacement | Expensive |
| Cost | Low | Med | High |
| Installation | Easy | Easy | Easy |
| Maintenance | Cable needs maint | Periodic bleeding | Minimal beyond inspections |
Mechanical Systems 
There are two types of mechanical steering systems for boats. There is a rack and pinion system and rotary boat steering. Both are ideal for smaller boats that have engines under 100 horsepower and are less than 10m long. 
They rely on a physical connection between the steering wheel and the engine, often completed by a cable.
In the case of the rack and pinion system, the steering mechanism is based on toothed plates and can provide very precise control. With rotary steering systems, the helm uses a boat steering wheel and cable instead of a toothed plate. 
Parts of a Mechanical Steering System
Mechanical boat steering systems give good handling performance, with torque feedback. They can provide relatively short vessels with reliable, simple power steering. The primary components of mechanical steering systems will include a helm, cables, gearing, and the needed installation kit. The kits will vary by the system but should include needed hardware or a basic install.
Rotary Helm 
This is the mechanism that is mounted behind the instrument panel that the steering wheel attaches to. It converts the rotational movement of the wheel into a linear movement of the cable. It provides the push/pull motion needed.
Cables
The cables are the main actuation force in push-pull steering for boats that moves your engine or rudder when the wheel is turned. In some more powerful engines, the cable in a single cable steering system can develop a dangerous amount of play, whereas a dual cable system drastically reduces or eliminates this problem. 
Reduction Gear Type
This is a type of gearing where one or more gears align with the steering drum to provide movement to the core of the cable. The older designs like Safe-T and Big-T continue to perform admirably and are considered two of the strongest designs. The drawback to reductions is that it takes a bigger helm housing to reduce the gears, so these are not common in small dashboards.
Planetary Gear Type 
Planetary gearing is an alternative style of helm gearing that has 3 or more gears all in touch at the same time and mesh with the drum to move the cable core. Safe-T II designs take up the least amount of space inside the dash and can be found in smaller vessels. The downside to planetary gears are the many different wear points
Rack And Pinion Helms
Helms for rack and pinion are similar to those for cable steering systems except that they include a pinion gear attached to the end of the steering shaft. This is what will interact with the rack and create the side-to-side steering motion. They also require quite a bit of clearance in the dashboard.
Engine Connection Kit
Most boat motor steering systems will include or make available the engine connection kit, which will provide all necessary fasteners, connectors, and other hardware that you may need to fully install your steering system. While not all installation scenarios are covered, the kits will generally cover the most common types of installations.
Price
Mechanical small boat steering systems are relatively affordable even for the high-end systems. While rotary will often be cheaper than rack and pinion, this isn't always the case, and you should not evaluate a steering system's quality by its price tag.
The Rack Steering System, for example, can be found for only $179-$199 depending on what cable length you may need. This puts rack and pinion steering within just about any boater's grasp. On the other hand, the NFB 4.2 Rotary Steering System is a very well-loved rotary kit, and it can be had for only about $299. 
In most situations, it will be best to simply buy a boat steering kit new. However, this is the day and age of social media, so there are tempting used kits on the digital marketplace. The problem with these though, s that you can never be sure about the condition without an exhaustive examination of all the components.
Also read:
How Much Does a Boat Cost? (With Ownership Costs)
Installation 
Installation of an outboard motor steering kit might sound like a project best left to professionals, but in many cases, the installation kit you receive will be designed to make installation simple. The first thing is to make sure that you have a steering system kit that will work for your boat. This included measuring for your cable length, more than once to make sure you are getting accurate results.
You will need to verify that your helm can be replaced with the appropriate rotary or rack and pinion helm hardware. Some newer boats will need concessions, like a wider rack cable or mounting adapters. Though many kits will include the hardware needed to install on any 1984-date "The Rack" mounting templates.
Maintenance
When performing routine maintenance on your mechanical steering system, there are not very many things you will need to remember or tasks you will need to perform. At least twice per boating season, you should check, clean, and lube the steering cable. Below is a quick rundown of the process:
Disconnect the steering cable from the tilt
Clean entire tube interior wall
Use a wire brush to remove corrosion if present
Lube the tube with standard water-resistant grease
Use a brass brush to clean the cable
Grease all sliding or moving parts
Reassemble while ensuring nothing is lose or has play
Hydraulic Systems
Hydraulic boat steering is a way to provide precise, smooth steering on larger boats and high speed vessels with high torque engines. On larger and more powerful vessels, mechanical steering is not a viable option due to torque feedback, and hydraulic steering offers a simple way to hold a steady course with very little effort.
Most marine hydraulic steering manufacturers sell the entire kit needed to upgrade a vessel to hydraulic power steering. These kits will generally include everything that a boat owner would need to upgrade their mechanical or existing power steering to newer hydraulics. 
Parts of a Hydraulic Steering System 
The parts of hydraulic steering systems will frequently be the same no matter what brand of kit you decide to go with. They should have, at the minimum, a hydraulic steering helm, a steering cylinder, hydraulic hoses and fittings, any common mounting hardware, and hydraulic fluid.
Hydraulic Helm
These are similar to the mechanical helm, except they take the rotational motion of the steering wheel and translate it into fluidic pressure. They are made up of a small pump and a series of valves. This means that when you rotate the wheel left, or counterclockwise, you are pumping fluid into the port side hydraulic line and causing the engine to turn the boat to port.
Hydraulic Steering Cylinder
The hydraulic cylinder is a fluid ram, actuated by the pressure in the cylinder bore. When the wheel is turned and fluid is pumped into the cylinder from either the starboard or port lines, the appropriate ram moves the engine smoothly in the directed needed.
Hydraulic Hoses And Fittings
These are high-pressure hoses and fittings that are designed to hold up to the pressures of the hydraulic system and allow the transmission of pressure from the helm to the cylinder. In smaller systems, they will often be made of reinforced nylon, while larger vessels will have hydraulic lines made from copper tubing, similar to refrigerant tubing. 
Hydraulic Fluid
The hydraulic fluid is the key to the whole system. It is a fluid that cannot be compressed more than a marginal amount, and so it makes the ideal pressure transmission vehicle for the system. The fluid needs to replace all of the air in the system, or it will not function correctly.
Price 
The price of hydraulic steering systems is probably not as bad as you would think. Most boats can be outfitted with a reliable and quality hydraulic system for less than $2,000. 
Depending on the size of the engine and boat that you need to control, the BayStar Outboard Steering System can be obtained for a relatively reasonable $769. That kit includes everything you might need for a single station single outboard vessel that has 150hp or less, from the helm pump to the fluid and purge line. 
If your boat has a bit more muscle, the SeaStar 1.7 Front-Mount Outboard Hydraulic Steering Kits can handle engines of up to 300hp and 600hp, depending on which kit you choose. You get all of the necessary parts for a full install, for between $1,199 and $1,699.
Installation 
Installation of a hydraulic outboard steering system is not as complicated as you may think, particularly if you are only upgrading your existing setup. Provided you already have some form of power steering present, it is mostly just a matter of changing out some parts, filling, and purging the system.
You will need to either replace your exiting helm pump or install it from scratch. Once that is done you'll need to run your lines, and they can simply follow your old lines or boat steering controls. Then you attach the cylinder, fill the system, and purge the air, and you are ready for the water test.
Maintenance 
Maintenance for a boat hydraulic steering kit is relatively straightforward. You will need to make sure that you continually keep the lines free of air or moisture, and ensure that your lines are in good shape. If you have any bubbles or cuts in your lines, replace them before you have a blowout. Other than that, be sure you keep the fluid topped off, and your steering system should last quite a while.
Importance of Maintenance
Maintenance is incredibly important for hydraulic marine steering systems because a small defect in the system can translate to a large or even catastrophic failure while underway.
The system operates at such intense pressures, that even small nicks or cracks in the hydraulic lines could mean a rupture the first time they're put under pressure during use. You might get stuck at the dock, but you could get stranded out at sea.
What is Helm Fatigue? 
Helm fatigue is common in operators or captains of larger vessels where they may be required to stand while steering a boat for long periods. Standing on the deck while underway can result in poor shock absorption by your legs, knees, ankles, and back. 
There are some products out there that can help reduce or eliminate helm fatigue. The most popular is a Helm Cushion Mat that you can stand on to reduce the effects of helm fatigue.
When to Upgrade Your Steering System?
Steering systems can be upgraded as well, making a very easy install and transition from your old hydraulic system to new and improved technology. Many older steering systems were larger and did not have the smooth control and performance that today's systems have. There is also the possibility that you have been experiencing signs of a tiring steering system, and perhaps haven't even noticed. 
Here are some signs that you either need to upgrade your steering or will need to do so shortly:
The steering wheel should move easily; difficulty steering can be an indicator that your cable or system need replacement
Damaged, corroded, or rusted cable – you may be able to replace just the cable
How to Buy a Boat Steering System?
Before you jump in and invest several hundred, if not 1K or more, on a boat steering system, there are a few things to think about.
Power
The top thing to think about when you are shopping for a new steering system is your power requirements. Finding a system that meets your requirements for horsepower and overall speeds is really important. You don't want to go with something that isn't going to be able to handle your boating needs.
Installation
Whether you install the system yourself or have someone else do it for you is entirely up to you. However, if you plan to do the installation yourself, you need to make sure you're getting something that you will be able to handle. Saving money on the setup is great if you're not at risk of ruining your boat or steering system.
Inclusive Kits
Finally, pay attention to everything that is listed as included in your kit. Many kits are all-inclusive and come with everything but the tools to install it and the boat, while others may only include some of the things required to properly install the system. Make sure you order missing pieces prior to delivery.
Best Boat Steering Systems
These are some of the best boat steering systems that are available on the market right now.
If you are looking for something that was built to last, the Protech 2.0 is one of the best hydraulic outboard systems on the market. This is a powerful steering system, giving you 300hp with single engines and 500hp with dual engines.
The boss-style fittings are adjustable, which allows error-free routing of the hose without risk of damaging the fittings, which is an issue that often happens with competing systems. No need to worry about leaking fittings or damage from overtightening.
This front mount steering system is a popular choice amongst boat enthusiasts. It has 300hp for single-engine use, and 600hp for dual engine, with a maximum speed of 60 mph. It comes with two 24' hoses, and you can purchase additional hoses if needed. It is reasonably sized and has a compact helm with a footprint of just 4 7/16" and needs just a 3" cutout.
Ideal for boats that are high-performance with non-power-assisted single outboards, this is a great option. With power up to 350hp and speeds of 60 mph and beyond, this system has fantastic steering control and comfort. If you like to spend your day on the water and want to be able to keep control of your boat at higher speeds, this would be a smart pick.
A Note on Steering Systems Safety
One of the most important things to keep in mind is that it is possible to experience complete steering loss if you don't install your system properly and if you do not keep up with maintenance and repairs. This is one of the few parts that has a single point failure, so it's crucial to take care of it.
Safety is important, and repairing or disassembling your steering system yourself could cause serious problems or even void your warranty.
Improper repairs can be very dangerous, so a boat mechanic should handle them for you. If you do tackle the repairs on your own, be sure to read through your manual very carefully prior to beginning the repairs.
FAQ
How does steering work on a boat?
The helm handles the work of converting the rotations of your steering wheel into the push-pull on the cable that is needed to steer.
Why is my boat steering so hard?
When your steering gets hard and stiff, the first thing to check is that it is properly greased, otherwise, you will run into trouble steering.
Are boat steering cables universal?
The majority of modern steering systems use a universal 3300/33 control cable. They do often require extra hardware to connect them to the engine.
What is a boat steering device?
The device that controls your boat's steering is the rudder. It is generally located at the stern and is fastened outside of the hull.
How do I make my boat steering easier?
If your boat is hard to steer, chances are, you need more grease on your motor. Without adequate amounts, you can have trouble with steering.
How long should a boat steering cable last?
For most boats, the steering cable should last between 7 and 9 years, as long as it is not sitting in water for extended amounts of time.
Can you lubricate a boat steering cable?
If your steering is stiff, another option is to grease the cable itself. Keeping your steering cable lubricated can help you steer more easily.
Does a boat have power steering?
Not all boats have power-assisted steering, but there are multiple options on the market if this is an upgrade you would like to add.
Can I add power steering to my boat?
Power-assisted steering is an option for most boats, although it is generally found in large sportfish boats and similar vessels.
Why does my boat have two steering cables?
Some boats are equipped with a dual cable mechanical system, especially performance boats. They are great because they minimize handling stability and engine flutter.
How much does it cost to replace a boat steering cable?
Depending on the make and model of your boat, replacing the boat steering cable at a dealership can cost anywhere from $300 to $600.
How do you unstick a boat steering cable?
If your boat's steering cable is stuck, you can grease the fittings, spray the end that is exposed with WD40, and gently tap with a rubber hammer.
How does a boat rotary steering system work?
The rotary helm, which is located behind the instrument panel, will convert the movements of the steering wheel into the cable's push-pull action.